My Trip to Royal Selangor Visitor Centre




I don't think there is a need for me to describe the history of Royal Selangor Pewter. It's been published many times over the years in magazines, newspapers, and there are even books written about them. What I'd like to do is to write about my trip to their visitor centre, which is also the site of their factory in Kuala Lumpur, Malaysia.

I actually made two trips. The first trip was unplanned and unsuccessful.

Why? Because I couldn't find the place!

I was with my wife and kid driving around Kuala Lumpur when she had the great idea (at that time) to check out the center. She thought she knew where it was. I should've known better than to trust a woman's directional instincts...

Okay, okay, that's harsh. Not all women get their directions mixed up.

But anyway, we drove around for quite a while before I politely asked her to give up. We went to the Aquaria in KLCC instead. My little kid went in for free and had the most smashing time while his parents paid a bomb and spent the time chasing after him.

Anyway, back to our pewter trip.

For the second attempt, I checked the map on their website. Frankly, it wasn't the most helpful. I just roughly memorised the main roads leading to it and the rest was just guesswork. I also thought there would be many signboards giving directions but to my surprise there was none until we were very near. They should have done more about it since it is supposed to be a rather popular tourist attraction.

We got there after some worry that it was another fruitless search. It was a Sunday and there weren't too many visitors, though we saw a couple of tourist buses.

The first thing we saw was, of course, the world's largest pewter tankard.

This tankard is listed in the Guinness Book of World Records. It stands at 1.987m (6.5ft) and weighs 1557kg (3432lbs). And how much beer does it hold? 2796 litres. That's 615 gallons!

Actually, it doesn't hold any beer. That's just the calculated capacity.

After posing for some pictures, we went into the center via a travelator going up to the first floor. We were supposed to register to get in but we didn't. A nice lady guide told us and then offered to bring us around.

We went to a little museum where some antique tin and pewter items were displayed. These ranged from the old Malayan tin money in the shape of crocodiles and coin trees (the coins can be plucked off the 'trees' when needed), to pewter incense burners and teapots made by Selangor Pewter themselves under their previous incarnations, Ngeok Foh, Malayan Pewter and Tiger Pewter. There were also some antique Swatow pewter pieces made by Kut Hing.

From there we went through a few other areas such as the 'Science of Pewter' and the 'Hall of Finishes'. There are also other areas you can check out for a bit of fun such as the 'Chamber of Chimes' and the 'Giant Weighing Scale'.

Along the way, you won't miss the Petronas Twin Towers replica made with 7062 pewter tankards. They're two storeys high. In case you didn't know, the Petronas Twin Towers used to be the tallest buildings in the world.

After looking at the exhibits, we went to the factory area. Unfortunately no one was working there since it was a Sunday. But they did have one lady showing us how a tankard handle was cast. Then there was another lady polishing a pewter vase. A third lady showed us how the hammered finish on tankards were made, and we got to try it out ourselves. It wasn't easy.

There was a room as well called the 'School of Hard Knocks' where you can learn the art of pewter-making. But you'll need to make an appointment for the class and pay a small fee. I might try it out one day.

The last area we went to was the sales gallery. This was actually the first time I saw so many Royal Selangor items in one place. I've been to some of their galleries but none had the variety of items displayed here.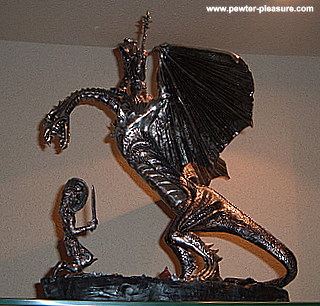 The most interesting ones to me were the Lord of the Rings pewter, from the famous goblets to a few eye-popping, dollar-dripping figurines such as 'The Shieldmaiden and the Ringwraith' in the above picture (battle between Eowyn and the Lord of the Nazgul) and 'The Guardian and the Thief' (Bilbo and Smaug) below. From what I gathered, these figurines have been sold out so what I saw were probably the only ones still available on display.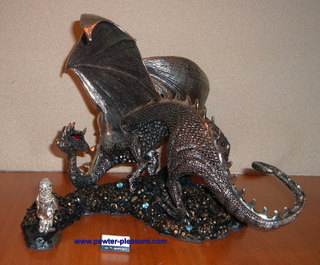 Since I couldn't afford those, I had to console myself with a much cheaper (but still expensive to me!) pewter snow dragon. Perhaps one day...

It was a great trip overall. I enjoyed the little museum, and finally getting the chance to look at all the LOTR items really made my day. Funny enough, my wife and kid enjoyed themselves too. I guess they are now pewter fans!


Return to Pewter Hunt from Royal Selangor Visit