There Are Picture Frames, And Then There Are Pewter Picture Frames In the digital age, we're all taking snapshots of our lives on digital cameras. Hardly anyone shoots on negatives nowadays and you don't have to worry about taking bad pictures and then paying someone else to develop them. You can check the quality of your photos right after shooting and delete anything you don't like.

Heck, you can even touch up your pictures to make them look as good as anything from a professional photographer.

It is also true that people don't develop as many photos as before, and for a good reason. All your photos can be stored digitally and they don't turn yellow over time. You can view them conveniently on a computer so why bother printing them out, right?

But sometimes you might just capture that very special moment which you cherish. It could be a picture with someone you love very much, like your newborn baby.

Or a great photo which captures that very moment of exhilaration, excitement and overwhelming joy after the successful completion of an arduous adventure.

A moment which you just have to print out and frame up.

For pictures like these, don't frame them up on any picture frame. They're very special and deserve something better. Spend a little bit more and put them up in pewter picture frames. They will look great and elegant.

You can find great frame designs in various shapes and sizes, such as the one below.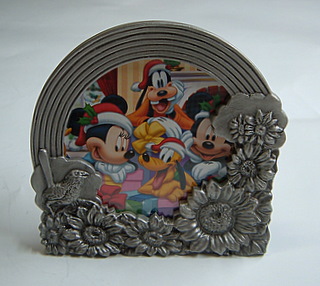 This picture frame has sunflower ornamentation. It will frame up nicely those happy moments you captured.

Do you know what you can do to make it even better? Personalise it!

But if you intend to personalise, look for frames that have the space for it. Some pewter picture frames like the one above are almost completely covered with artwork, which means no personalisation.

Engrave captions or anything that makes that moment more memorable to you. If it's a gift for someone else, it would be more meaningful.

And the good thing about personalising is that the picture frame would then belong only to that special photo because the frame describes the picture.

There is another idea to make it better.

Paint it!

Imagine that the sunflowers and the bird on the picture frame above are painted. It would certainly look more interesting, right?

I didn't paint this frame because I always preferred the natural pewter colour and look.

But a bigger reason, and it saddens me to admit it, is that I'm not such a good artist.


You can check out other pewter deskware on this site:





Pewter Pen Caddy

Pewter Letter Opener

Pewter Business Card Holder

Pewter Scroll Holder


Return to Pewter-Pleasure.com from Pewter Picture Frames