Pewter Quaich




A pewter quaich is more easily found in Scotland than anywhere else. And that's no surprise, since quaichs are traditional Scottish drinking cups.

But, err...how do you pronounce that word?

Well, it's pronounced as 'quake'

The Scottish quaich is a wide and shallow drinking cup with two flat handles. It is traditionally used to offer drinks (usually whisky or brandy) to guests as a welcome or farewell gesture.

Here's a sketch of what a quaich looks like below.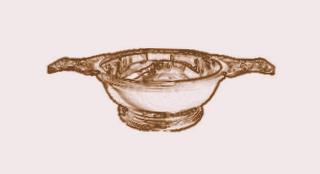 I put this quaich sketch up before I had one in my collection.

And now I have a real one! I got it online.
It's very nice, at a pretty decent size. The height is about 2 inches and the bowl diameter is 4 inches. If you measure from the end of one handle to the other, it's 8 inches. See below...



Quaichs were traditionally made of wood, but can also be made of stone and metals. Metal quaichs such as those of pewter started to appear in the 17th century. Gold and silver quaichs were pretty common then too.

Quaichs can come in various sizes. The diameter of the cup can range from as small as two inches to as wide as ten inches.

Ten inches? That's huge!

Not surprisingly, it being a symbol of Scotland, quaich trophies are usually presented to the winners of various sports events in Scotland such as golf and rugby. For the annual Six Nations Rugby championship, the winning team of the match between Ireland and Scotland are presented with the Centenary Quaich.

Nowadays, quaichs are also normally used as gifts during special occasions such as weddings and christenings to symbolise the sharing of love and the celebration of life.

Since it is uniquely Scottish, you probably won't come across a quaich easily. So do grab it if you're lucky enough to see one.

Or just get one online like what I did!


You can check out other pewter drinkware on this site.





Pewter Tankards

Pewter Goblets

Pewter Hip Flask

Pewter Tea Set

Pewter Porringer


Return to Pewter Drinkware from Pewter Quaich