Pewter Business Card Holder

A pewter business card holder is a great desk accessory to have. Apart from keeping your business cards within easy reach, it also looks elegant.
That means it will portray a good image to your clients.
Card holders can be made of many types of materials such as leather, wood, plated metals, etc. And pewter card holders are always a good choice.
You shouldn't discard your pewter card holder once it is no longer suitable to be displayed on your desk, whether due to age or you just want a new one for a different look.
Why?
Even if it does not hold any sentimental value to you, it will have a certain collectible value. Especially if it has been around for many years.
If it hasn't been handled badly, pewter will age nicely and develop the patina that pewter collectors look for.
See a pewter card holder below.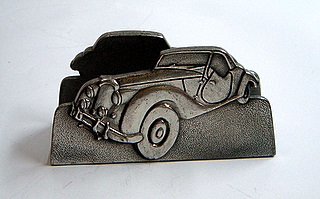 This one has been around for at least a couple of decades. The patina has developed, as you can see. It's a very simple card holder, but is no longer suitable for use. I don't think you'd want to put something this old or outdated on your desk. The car depicted looks like one of the old Jaguar models.
Here's another look at it holding a small stack of business cards.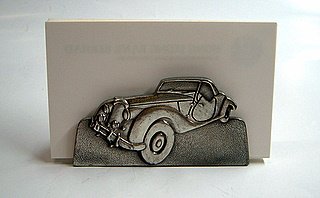 I've seen quite a number of used pewter card holders but so far this is the only one that's caught my eye. Most of those I've seen were basically souvenirs showing symbols of the countries they came from, which I don't fancy for my collection.
This one is actually personalised, a gift from a couple of ladies to their 'great boss'.

You can also check out other pewter deskware on this site.

Pewter Pen Caddy

Pewter Picture Frames

Pewter Letter Opener

Pewter Scroll Holder


Return to Pewter-Pleasure.com from Pewter Business Card Holder