Pewter Pendants




I was looking for a gift for my wife's birthday a while back. I took a look at some pewter pendants, but not really sure I'd find something suitable. You see, I'm not really good at shopping for jewelry or anything that a lady wears.

In fact I can't even buy clothes that are the perfect size for myself. They always feel comfortable when I try them on in the fitting room but somehow they become too loose or too tight once I bring them back home.

But lucky for me, I found a pewter pendant which looked rather appealing. Actually, I didn't think it was terribly nice but I was pretty sure she would like it.

And she did. Phew...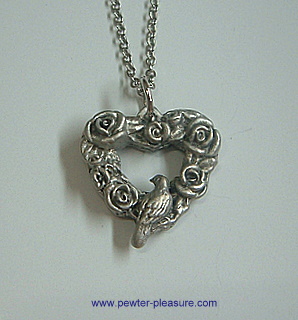 I got this pendant new, of course. I wouldn't think of giving her something used, right? This one is from Royal Selangor Pewter.

It's not a very big pendant, measuring at slightly over 2cm across. The design is basically a ring of roses in the shape of a heart, with a little bird perching at the bottom.

So, what are pendants and why do people wear them?

Pendants are hanging objects attached to necklaces. They can sometimes be found hanging from earrings too, though those must be pretty big and heavy earrings!

Apart from being fashion accessories and ornamentation, pendants are also frequently worn as charms to ward off evil or to bring luck. These can be in the form of religious symbols such as crosses.

Some pendants serve as identification for a particular group of people or community. Some of these can be faith-related (again, such as the cross), but we can also see pendants bearing the symbols or logos of rock bands such as Motorhead and Good Charlotte. Their fans would definitely be easily identifiable...

There are also pendants worn by people in support of a certain movement or activity. The Peace symbol is a great example. The symbol (sometimes described as a bird's foot in a circle) was earlier adopted by the Campaign for Nuclear Disarmament but later became used as the international symbol for anti-war movement, especially throughout the sixties. It's still being used today, though I have to say it hasn't been too common.

There are some very interesting and exotic pewter pendant designs out there. I gave the pendant below to my sister and she absolutley loves it!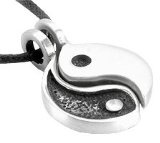 This pendant actually comes in two pieces, the Yin and the Yang halves. My sister wears the darker half (Yin) while her boyfriend wears the the smoother piece (Yang). This pendant is definitely designed for couples! Best friends would love it too.

The pendant weighs close to 20 grams, and its diameter is about 0.9 inch; quite a decent size. I bought it together with a black silk cord but my sis thought it wasn't nice, so she went and put each half on a silver necklace instead.

Well, at least she appreciates main item...

If you do wear a pewter pendant, don't be surprised if it starts to tarnish or wear off. Pewter gets oxidised, unlike gold or precious stones, and this process is faster with pendants since the metal is in contact with the human skin all the time.

That means sweat and whatever that's on the skin will also be on the pendant. It is also constantly rubbing against the skin and while that can remove the oxide layer, it also means that the pewter will gradually wear off. Unfortunately there's really nothing much you can do about it, unless you don't wear it...

...which defeats the whole purpose of getting one in the first place, doesn't it?

Apart from pewter pendants, you can also find other pewter accessories on this website.





Pewter Charms

Pewter Keychains

Pewter Trinket Box

Pewter Earrings


Return to Pewter-Pleasure.com from Pewter Pendants