Pewter Candle Holders




Pewter candle holders were probably one of the earliest things made of pewter. Historically, early pewter was mostly used for religious purposes and candles certainly featured frequently in these rituals and ceremonies. And with so many candles, you'd need something to hold them conveniently.


Candle holders are also called candlesticks, chambersticks and candelabra. I'd just call them candle holders.

Personally, I had never used a candle holder. I would just light the candle and then drip some liquid wax on the spot where I'd want it to be. Then I'd stick the candle onto the hot, soft wax. Simple, yet effective. Everyone does that.

Don't you?

I've been looking around for an antique pewter candle holder to add to my collection but I couldn't find anything I liked. They were either too big and heavy (well, most I've seen had many branches, so they had to be heavy...) or had too many imperfections.

Why antique? Hmm...I don't know. I just felt my candle holder has to be antique. Can't explain...

But then I went out one day and saw a new one which caught my eye. This one holds only a single, solitary candle.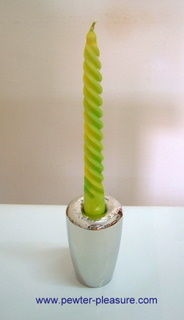 It has a very simple design, looking like a little cup. The surface is polished to a mirror finish. Very attractive, I have to say.

My wife likes it very much too. She knew I wanted to snap some photos of it to put up on this page and, of course, I'd need to show that it can actually hold a candle.

So she bought some candles for me.

I chose this yellow-green one since I like green and she didn't get one which is fully green.

Did she do that on purpose? I have to wonder...perhaps she thought it would create a nice ambience for a romantic candlelight dinner.

Well, whatever the colour, I think it still looks good. But perhaps a smaller candle would better fit this holder and it should be more stable since it has a lower centre of gravity.

There is another reason why I like this candle holder.


It can hold a tealight!

How does it do that? Well, just tip it over, like this...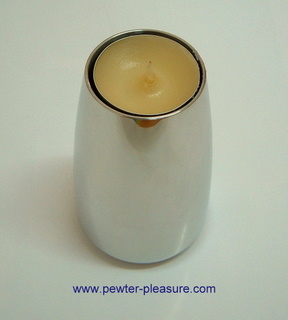 That's the tealight it's holding in the middle. Some people call it nightlight. This one is scented, and it does make the whole room smell heavenly when I light it up. My wife likes it, as would any lady, it seems. Puts them at ease, you see.

So, guys, you know what to do...

Oh, I've got comments that all my pictures look kinda monotonous. The background's dull, same colour, blah, blah.

I can't help it, you know. Pewter has only one colour...

Anyhow, I thought I'd try to play around with this piece since it is mirror-polished. Check it out.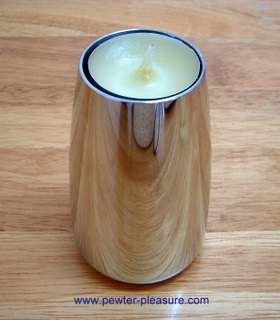 I put the pewter candle holder on a wooden table and the mirror-polish did the rest, taking up the patterns and turned it this way and that.

If I didn't tell you this is pewter, you wouldn't know at all, would you?

Here are some other pewter tableware on this site...





Pewter Plate and Charger Plate

Pewter Egg Cup

Pewter Salt and Pepper Shakers

Pewter Chopstick Rest



Return to Pewter Tableware from Pewter Candle Holders